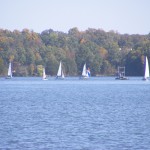 We had a great October regatta and a awesome 2012 season.
The final regular season regatta was held today (Saturday, October 20) under beautiful conditions. Sunny skies and average winds between 5 and 8 mph allowed us to run three races. We had 12 boats in all three regatta races, and new members Mike and Marie Schram rented Sunfish to practice during the afternoon.
Chuck and Gene Eldred handled committee boat duties (with help in the first race from Michael Nordahl). Thanks guys – great job! Connie provided the refreshments for us to get the morning started off right – thanks Connie!
We had some of the best racing of the season, with some close racing throughout all three races, and some close finishes, both with and without handicaps. Congratulations to Nancy Valego for winning all three races! Congratulations also to Tait and Ty Humphries for three top 4 finishes, to Melissa Palmer and Rosalie Austin who sailed the club's Harpoon 4.6 to two top 3 finishes, to Art Martz for two top 5 finishes and to Jerry Eldred who sailed a great Race 3, crossing first, and finishing second in the handicap scoring to Nancy.
This was a great end to our regular regatta season! Thanks to all who sailed and participated
Next up, The annual OHSC – LTYC Interclub Regatta !
October results are posted HERE
October Pictures are posted HERE
Oak Hollow Sailing Club 2012 Season Final Results are posted HERE