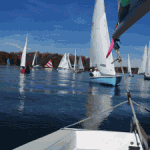 OHSC members,
Sadly our racing season is winding down. One week from today, on Saturday November 7th, we face off against Lake Townsend Yacht Club on their home water. This is a FUN yet highly competitive event. It would be great for Oak Hollow to bring home the trophy! The NOR is waiting on final approval although it looks like scoring will be changed this year. It's the low point system in which scores from each club will be totaled and averaged. Every boat counts!
CLICK HERE TO SIGN UP
The deadline is quickly approaching….Don't forget to purchase your tickets for our 2015 Annual Awards Banquet and Dinner on Saturday evening, November 14, at Fire and Sticks, 3917 Sedgebrook St., High Point, NC. Cash bar at 4:30pm and seating for dinner PROMPTLY at 5 pm. Tickets MUST be purchased in advance by Saturday, November 7th. Please mail your check made out to "Oak Hollow Sailing Club" for $25 per person attending from your family to Linda Marsh, 4904 Carolwood Drive, Greensboro NC 27407.
Cheers,
Stephanie De Lair
2015 Commodore