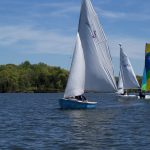 OHSC held its first 2016 regatta on Saturday, April 16, with about 23 members present along with several guests. We had beautiful weather with winds up to around 10 mph, with averages somewhat less than that, and temperatures reaching the mid-60's. Twelve boats participated in the regatta.
Race committee was handled by Tait Humphries, Phil Andrews, Stephanie DeLair, Linda Marsh and John Fulcher.  Also volunteering were Rosalie Austin and Dari Starkey, who handled the apparel sales. Thank you ladies and gentlemen for volunteering!  We were able to complete three races.  Congratulations to Chuck Reavis, Spencer Sherrill and Paul Walter who were the three individual race winners. Sue Cole and guest Jeff Swing, sailed the most consistently and finished with a 2nd and two 3rd place finishes.
Handicap scoring and full race results are attached.
| | | |
| --- | --- | --- |
| April 2016 Regatta Results |   |   |
|   |   |   |
| Captain | Crew | Boat |
| Sue Cole | Jeff | Javelin |
| Carl Simmons | Lois | Lightning |
| Gary Hudgins | Art | Hunter 146 |
| Paul Walter |   | Hunter 18 |
| Warren Mitchell | Pam | Hobie 16 |
| Jerry Eldred | friend | Aquacat |
| Les Eger | | Force 5 |
| Tom Kirkman |   | WETA |
| Chuck Reavis |   | Daysailer |
| Mike Mullins | Allison | Hobie T2 |
| Spencer Sherrill |   | Force 5 |
| Gen Eldred |   | Capri 14 |
|   |   |   |
| Race 1 |   |   |
| Position | Captain |   |
| 1st | Chuck Reavis |   |
| 2nd | Sue Cole |   |
| 3rd | Paul Walter |   |
| 4th | Les Eger |   |
| 5th | Gary Hudgins |   |
| 6th | Carl Simmons |   |
| 7th | Warren Mitchell |   |
| 8th | Spencer Sherrill |   |
| 9th | Tom Kirkman |   |
| 10th | Gene Eldred |   |
| 11th | Jerry Eldred |   |
| 12th | Mike Mullins |   |
|   |   |   |
| Race 2 |   |   |
| Position | Captain |   |
| 1st | Spencer Sherrill |   |
| 2nd | Carl Simmons |   |
| 3rd | Sue Cole |   |
| 4th | Paul Walter |   |
| 5th | Chuck Reavis |   |
| 6th | Les Eger |   |
| 7th | Jerry Eldred |   |
| 8th | Gene Eldred |   |
| 9th | Tom Kirkman |   |
| 10th | Gary Hudgins |   |
| 11th | Warren Mitchell |   |
| DNF | Mike Mullins |   |
|   |   |   |
| Race 3 |   |   |
| Position | Captain |   |
| 1st | Paul Walter |   |
| 2nd | Spencer Sherrill |   |
| 3rd | Sue Cole |   |
| 4th | Carl Simmons |   |
| 5th | Chuck Reavis |   |
| 6th | Les Eger |   |
| 7th | Gene Eldred |   |
| 8th | Gary Hudgins |   |
| 9th | Warren Mitchell |   |
| 10th | Mike Mullins |   |
| DNF | Tom Kirkman |   |
| DNF | Jerry Eldred | |