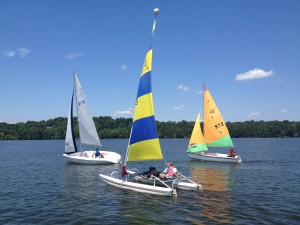 July Regatta Results are up: HERE
Some Pictures: HERE
Some Video: HERE
Enjoy !
The Oak Hollow Sailing Club held its July 2012 Regatta on Saturday, July 28th, under sunny skies and better than forecasted winds, which ranged from about 4 to 8 mph, with occassional higher gusts. We had seven member boats participating, with one guest crew, Paul, while our new members Mike and Marie Schram rented the club's Harpoon 4.6 to practice for future regattas.
Thank you to Mellissa Palmer, her son Ethan, and Rosalie Austin for handling committee boat duties, and to Connie Sloan for the delicious refreshments!
We had a beautiful day, with very competitive races, and very good participation considering several members were on vacation.
Race results are attached to this note.
Our next regatta is scheduled for Saturday, August 18.
Thanks!
Paul Walter
Oak Hollow Sailing Club