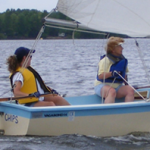 Saturday, July 18th was our second Annual "Blue Chips" Charity Regatta, to benefit cancer research in memory of Nancy Valego. Nancy was a founding and lifetime member of the club who passed away two years ago. For many of our new members who did not know Nancy, her service to the club resulted in our ongoing commitment to teaching sailing. She was responsible for establishing OHSC as the educators for High Point University's sailing class. That teaching arrangement has provided the club with the opportunity to keep our dues affordable, and keeps us in an ideal position to share our love and knowledge of sailing with young people who may make it a lifelong hobby. What better way to promote our sport!
We had well over 50 people in attendance at this event. Due to everyone's generosity, more than $900 will be donated to the Susan G. Komen Foundation to benefit cancer research. Regatta t-shirts are still available for $20.
All of our volunteers did a wonderful job! Carrie and Billy Clemmer along with nephew, Ashton provided morning refreshments. Dari and Matthew Starkey handled apparel sales and donations. A very special thanks to Wanda Williams from Lake Townsend Yacht Club for preparing our delicious afternoon meal. We really appreciated it! Race committee consisted of Phil Andrews, Michael and Mini Nordahl, Steven Boul and guest (soon to be new member) Drew Plonk.
It was a tight race for first and second place with only 2 points separating these teams with a 2nd, 1st, 1st place finish and a 1st, 3rd, 2nd place finish.
Congratulations to Regatta Winners Alan Taylor from Lake Townsend and Lauren Starkey!
2nd Place – Stephanie DeLair and Joel Blade
3rd Place – Melissa Palmer and Chuck Starkey
Full results and scoring are attached below…
**Please note that those boats that received a DNS, US Sailing Rule A4.2 was applied. A boat that did not start, did not finish, retired or disqualified shall be scored points for the finishing place one more than the number of boats entered in the series.
Thanks again to everyone that came out to support this event!
Stephanie De Lair
2015 Commodore
Oak Hollow Sailing Club