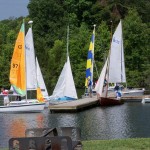 OHSC held its most recent regatta on Saturday, June 20th with a turnout of approximately 44 in attendance even though we had a lot of Skippers out of town. We had much higher winds than usual (12-20mph with gusts in mid 20's) for those 15 boats who sailed.  RC was busy handling 4-5 capsizes.
Thank you to Carrie and Billy Clemmer who provided morning refreshments along with Dari Starkey for handling apparel sales.  The entire RC team did a stellar job and should be commended!  Thanks to Eddie Sawyer and Carl Simmons for coordinating RC.  Joe Holder, Les Eger, Caleb Thompson, Chris Malcolm and John Whiting handled race committee duties.
Congratulations to Spencer Sherrill who won Race 1 and got two second place finishes. Also, congratulations to Race 2 winner, Andy Squint.  After only five boats sailed in the final race, Tom Kirkman won Race 3.
Full results and scoring are HERE…
Stephanie DeLair
2015 Commodore
Oak Hollow Sailing Club