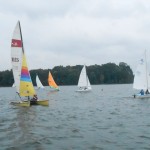 Oak Hollow Sailing Club sailors:
Our next regatta will be held June 20th at the North Marina, with the Skipper's Meeting scheduled for 10:30 a.m. All sailors who plan to sail should have their boats rigged BEFORE the meeting begins. We still need volunteers for race committee.
We're looking forward to sailing and celebrating with you this weekend. Anyone participating including volunteers can RSVP: http://www.summersailstice.com/event/oak-hollow-sailing-club-summer-sailstice-regatta bEnter your name and email so we can we see who's coming, communicate plans, and share our event with other Sailstice sailors around the globe! You'll also be entered for a chance to win the Sunsail BVI charter, a Hobie kayak, Go Pro or one of the hundreds of other Summer Sailstice prizes.
If you plan to sail and/or crew, please go to the below link and sign up on our Scratch Sheet listed below. Also, for members without boats that are trained, the club has a Sunfish and Harpoon available for rent (and the City Marina has several for rent). Please contact me as soon as possible if you want to rent a Club boat. **Daniel Marquez has reserved the Club Sunfish. Another Sunfish is still available.
https://docs.google.com/spreadsheets/d/14Tovb7SXMlxV2f5244USlZz43OLs26eJW5kMoAuJ1d0/edit#gid=0
Sunday is our Club training Day in which many members will be at the lake to sail. If you have paid for training and not yet been trained, Andy Squint, will be available at 1pm. At 2pm, everyone in attendance will get trained on sail shape. New members, this would be a great day to go to the lake!
Fair Winds!
Stephanie De Lair
2015 Commodore
Oak Hollow Sailing Club