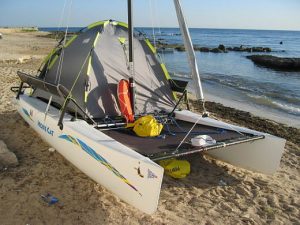 Weather permitting, Oak Hollow Sailing Club plans to hold an early season (Exhibition) regatta on Saturday, March 18, 2017.  This was a request by several sailors who were hoping for decent wind early in the season.
Please note the following:
This is not a sanctioned regular season regatta by OHSC – although we will score it, the results will NOT be included in our year-end scoring.
As of this email date (Sunday, March 12) the Sail Point parking lot has NOT yet been paved, but we expect it to be completed this week before Saturday.
Anyone who decides to participate on March 18, should have cold water gear and should realize the water temperature is still dangerous. If conditions are difficult strong consideration should be given as to whether you should sail or not.
The City of High Point does NOT have a second boat to loan at this point due to their patrol boat having been vandalized, AND any potential assistance they might be able to offer will be limited and potentially delayed.
Race Committee will be relying solely on our safety boat which is being serviced this week – we expect it to be ready, assuming there are no early season issues with it.