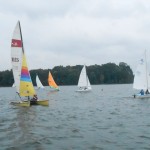 Twenty-five members, six High Point University sailing students, and several guests attended the OHSC September 2013 Regatta on Saturday, September 21.
Eighteen boats sailed in at least two of the three races. Race committee duties were handled by Warren Mitchell and Anna and Tom Kirkman, with Paul Walter handling safety boat duties for the HPU students who sailed in the first two races. Connie Sloan provided the morning refreshments before hopping on the Aquacat for racing.
Thank you to the volunteers! The RC committee did a very nice job of moving the three races along in order for us to complete the regatta before the bad weather arrived, and the refreshments were great!
Congratulations to race winners Phil Andrews (winner of Races 1 and 3) and Michael Nordahl (Race 2 winner). It was great to see Nancy Valego's "Blue Chips" Hobie 1 on the water in the hands of new owner, Melissa Palmer and her crew, Rosalie Austin.
Full race results are HERE.
Photos are HERE.