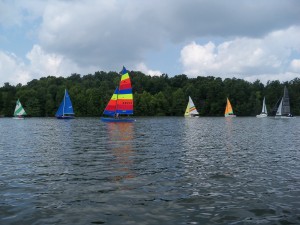 Oak Hollow Sailing Club will be holding its August Regatta this Saturday, August 16th, at the North Marina, with Captains' Meeting scheduled for 10:30 a.m.
All sailors who plan to sail should have their boats rigged BEFORE the meeting begins. Race committee duties are being handled by Les Eger, Art Hudgins, and Billy and Carrie Clemmer. We will have morning refreshments prior to the meeting, so we can gather and talk about the wind (and perhaps whip some up).
The forecast is for a beautiful day with a significant change of wind direction (nothing new about that) during our race hours.
If you plan to sail, please go to the below link to our Scratch Sheet and sign up. Also, there is a column to sign up for anyone who would like to crew. Also, for members without boats, the club has a Sunfish available for rent (and the City Marina has several for rent), if you are trained and want to captain your own boat. Please contact me if interested in the club Sunfish. The club Harpoon has already been reserved for the day.
https://docs.google.com/spreadsheet/ccc?key=0Apv8r8wvYxkwdHh6WnFxdWFpXzRtcTNIMFQ2bEpUTUE&usp=sharing#gid=0
Hope to see you all there.
Thanks, and bring some wind!
Paul Walter
2014 Commodore