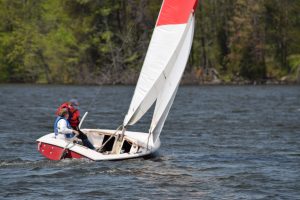 Oak Hollow Sailing Club is holding its June 2017 Regatta this Saturday, June 17, 2017.
Current weather forecast for Saturday is good with 5 to 7 mph South winds and partly cloudy conditions for most of the day. Thank you to our Race Committee volunteers, Chris Malcolm, Mary Dusek, Bill Inmon, and Glenda Wilkerson, and to Sue and Paul who have signed up for morning refreshments. Please keep in mind that anyone is welcome to bring something for our pre-regatta morning snacks.
If you are planning to sail, please sign up at the link below so we know how to plan – there is NO PENALTY if you sign up and then can't show up. If you would like to participate as a crew person, we will try to get you on a boat, so please indicate that on the sign-up sheet.
https://docs.google.com/spreadsheets/d/1RHiiRJJX8xsIZDzaq7Af04M3dm4gyMyR7b-ukDM2lTA/edit#gid=189972722
Looking forward to a strong turnout!