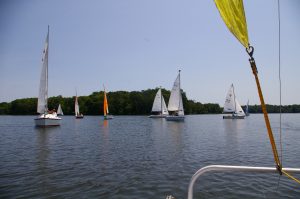 Oak Hollow Sailing Club held its May 2017 Regatta on Saturday, May 20th. We had 31 members attending and 14 boats participating in the races. Winds were forecast to be in the 5 to 7 mph range all day, and started out that way. We were able to complete 3 races, although the wind died during the third race with only 3 of 10 boats completing the race during the time limitation.
Special thanks to our volunteers for the event: the Duffy's for providing homemade breakfast burritos, and to Gary Gooden, Paul Walter and Sally Leigh for pastries, fruit and water. (Sorry if someone was left out of this list – other items were brought but I don't know who brought them). Tom Kirkman handled PRO duties, with race committee volunteers Teri and Mark Craven, Sue Cole, and Dari Starkey. Tom introduced a new course design for us (a gate at the upwind mark) which was well-received by the sailors, as they were presented with an option of a port or starboard mark to round. Thank you to the entire race committee for their excellent work.
Also, a VERY special thank you to Bruce and Sally Leigh for heading up the club's pontoon boat restoration (with help from Tom Kirkman also). Since the April Regatta, the club had to purchase a trailer for the pontoon boat and park it (the pontoon boat) at the North Marina for our future use. Bruce and Sally and Tom had it pressure washed, restained, flooring repaired, seats removed and repainted, and Tom constructed a new console with a cutting board top. Also, Bruce obtained new lettering for both sides of the boat, so we now have an RC boat that looks much more presentable. Thank you for your many hours of work!
Below please find the handicap scoring and overall race results for the May regatta. Congratulations to mono-hull race winners Phil Andrews (2 firsts) and Michael Nordahl (1 first), and to multi-hull winners Roger Bates (2 firsts) and Jerry Eldred (1 first).
Our next regatta is scheduled for Saturday, June 17.