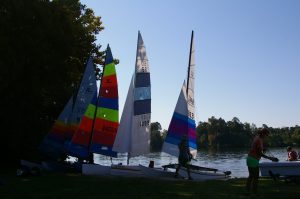 Oak Hollow Sailing Club held its September 2017 Regatta on Saturday, September 16th, with 34 members and guests present (including four of our HPU sailing students). Thank you to all who brought morning snacks (the Duffy's, the Malcolms, the Starkeys, Sue, Paul, and Pam – and any others I may have missed). Thanks to Pam for cleaning up the shelter after the meeting, as we had to vacate it earlier than normal.  Thank you again very much to Bruce and Sally Leigh for arriving early and dodging the "traffic" to get our RC boats launched. Thank you to Sue Cole and Mike Vitamvas for assisting with our HPU students at the City Marina prior to the Captains' Meeting.
Tom Kirkman filled in on short notice to assist with Race Committee, as we had two volunteers that did not show up. Tom, Phil Andrews, and Gary Gooden set the course in one of the few areas we had some periodic wind, and therefore we were able to complete three races. Thank you guys for your service!
Although the wind was light and sporadic, it was a beautiful day with 16 boats participating in at least one of the three races.
Congratulations to mono-hull race winners Michael Nordahl who won the first two races and to Sue Cole who won Race 3 outright, even without the handicap scoring. Sue finished 8 minutes ahead of the second place boat with handicap scoring.  Way to go, Sue!  The day's total scoring was unbelievably tight, as Sue Cole and Michael Nordahl tied with 21 points, and Dan Schuee was one point behind with his two second place finishes and one third place.
In the mulit-hulls, congratulations to Roger Bates for 2 first place finishes and one second place, and to Warren Mitchell for winning the first race. Special recognition to Mike Vitamvas for two third place finishes in the multi-hulls, with his two young granddaughters as crew on his Hobie 17.
We are proud of our four HPU students who participated in the first two races – Jack, Justin, Kristen, and Sarah, light (and sporadic) wind sailing is a real challenge, and all four of you did well!  Thank you for sailing with Oak Hollow Sailing Club!
Handicap scoring and the Results with points are HERE.