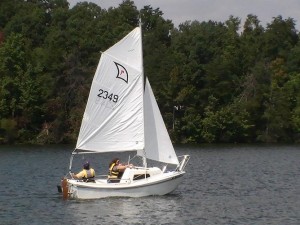 The Oak Hollow Sailing Club held its September Regatta on Saturday, September 15th, under beautiful skies and winds from 5 to 10 mph (with some higher gusts in the first race).
We welcomed our seven High Point University students who are taking the HPU Fall Sailing Class, and ten of our member skippers and crew, and several guests. Warren Mitchell, his friend Anna, and Nancy Valego handled committee boat duties. Thank you to them!
In addtion to our HPU students sailing with us, new members, Art Hudgins, Kim Walker, and Mike Schram sailed in their first regatta with us. Art skippered his Hunter 140 with his son Gary, as crew. Kim crewed with Capt. Jim Green, and Mike crewed with Paul Walter. We also had one guest crew person, Whitney Dupont, who sailed with Art Martz.
Congratulations to Phil Andrews for winning all three races. Also, two of our HPU students, Bobby and Madison, sailed the club's Harpoon 4.6 to a second place finish in Race 1. Bobby skippered, with Madison as crew, and they sailed a beautiful race – congratulations to them! (I think you two should tell Professor Valego that you deserve extra credit for that! lol)
Thanks!
Paul Walter
Oak Hollow Sailing Club
September Results are
HERE
September Pictures are
HERE